That's one magical combo if you ask me.
The supplies you'll need for this one include:
A printout of reindeer antlers
White paint pen
Bells (mine are from Michael's*)
Hammer
Nail
Twine
Hot glue
I nabbed some clip art of some reindeer antlers online (can't remember the source, sorry!) and printed them out in a size that would fit on my wood slice. Sometimes it takes a little trial and error to get this right.
Cut the antlers out and place them on the wood slice.
(I painted my wood slice gold for this project, but you could leave it the natural wood color too, if you prefer.)
Since I wanted my antlers to look a little bit more abstract, I didn't trace around the outline with a pencil like
Dusty did here
for her monogrammed wood slice ornament. Instead, I used a hammer and nail to mark the points and corners of the antlers. A little tap of the hammer is all you need to make an impression in the wood.
Then I used my white paint pen to connect those dots and fill in the antlers. It took a couple of coats of white paint to make it opaque. The photo below is after one coat.
To add the bells, I strung three gold bells on a piece of baker's twine, tied the string into a bow and hot glued the knot in-between the antler bases. I also hot glued a loop of baker's twine to the back of the ornament for hanging. (Can you tell I'm kind of obsessed with the baker's twine? I think it's going to make an appearance in practically all my ornament posts!)
Pretty cute, huh? Now go forth and be inspired by the other 12 Days of Christmas bloggers! Links are below :).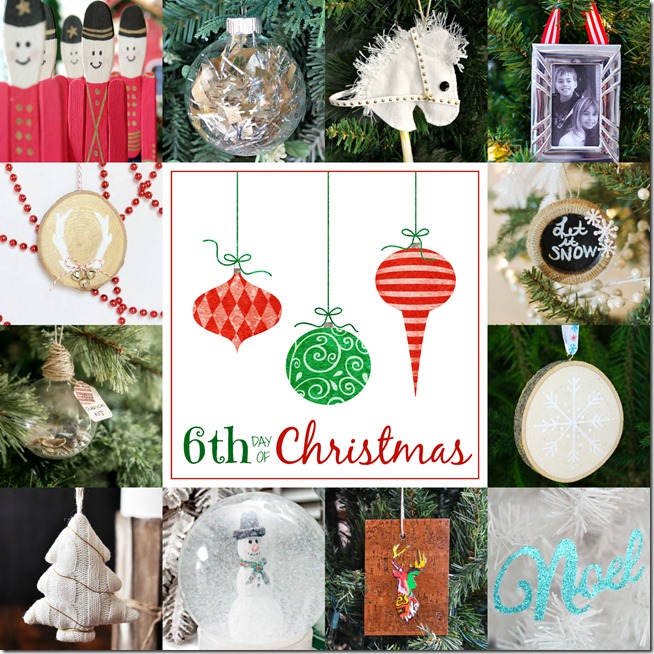 Disclosure:
Some of the products used in this post were purchased with a gift card which I received from Michaels. Thank you, Michaels, for supporting my craftiness! This post also contains affiliate links, which means I earn a small commission from your purchase at no cost to you.