Ever since we moved to DC, we haven't had a headboard for our bed. In Richmond, we re-purposed five bifold doors to make a headboard, which I loved, but they didn't look right in our new place. So they went off to a new home via a "free stuff" posting on Craigslist. I keep meaning to do another DIY of some description, but I've been
super
indecisive about what I want. Does this happen to anyone else (wink wink)? So for a year, we've been headboard-less. I think that's why I haven't really shown your our bedroom here on the ole blog. Silly reason, I know, but that's about to change, because I'm enlisting your help on coming up with a solution to this little issue.
Here's the most current photo I have of our bedroom. It's unstaged, un-decluttered (is that an oxymoron?), and generally how it looks on an everyday basis...if we make the bed :).
There are lots of changes I'd like to make here, but I'm going to try to focus on the headboard issue for now. Let me tell you a little bit about our bedroom...
The room has a bit of an odd, but cool shape to it, as you can see. The wall angles make the bed area of the room sort of a half-octagon shape (the rest of the room is a regular rectangle) and our queen bed snuggles up right in the middle of it.
Our bedding is mostly Pottery Barn. The duvet/shams are the
Pearl Embroidered collection in Porcelain Blue
, the quilt is the
Hanna Quilt in Porcelain Blue
. The two ruffly small gray pillows were a Marshalls or TJMaxx pick up from a few years ago.
I love that oil painting up there - it just "fits" the room. The chunky wood frame brings in a lot of warmth since most of the colors in the room are on the cool side. I'd love for it to stay, but that does mean the headboard should be on the shorter side I think.
Our two swing arm floor lamps are fine for now (although I really wish I could install some swing arm sconces), and they actually have solid white shades on them now (since I repurposed one of them for the
wood shim pendant light
above our dining table).
One other thing I should note is that we have this awesome charcoal gray and white chevron rug at the foot of the bed. I don't have a great photo of it by itself, but it's this one:
Had to have something a little more on the wild side with all that civilized bedding up there. You can actually catch a glimpse of it in some of the "before" photos of the
coral and gray dipped side table
post.
So my question is, what kind of headboard should I go for?
(That's not a rhetorical question - I really want your opinions!)
I'm leaning heavily in the upholstered headboard direction, and I've even completed one step so far - buying foam - ha! :) The blogging world is just FULL of DIY versions, so I've got plenty of inspiration. I just can't settle on one!
Here are a few of my faves
(I'm focusing mostly on shape here, not fabric or colors).
Love the sophisticated look of this
upholstered headboard with arms
from
Sarah M. Dorsey Designs
:
The fabric on this DIY version of the
Pottery Barn Raleigh Headboard
from
Tenth Avenue South
is a drop cloth - so clever!
Probably not orange, but I love the shape and style of
this nailhead-trimmed one
via
Little Green Notebook
: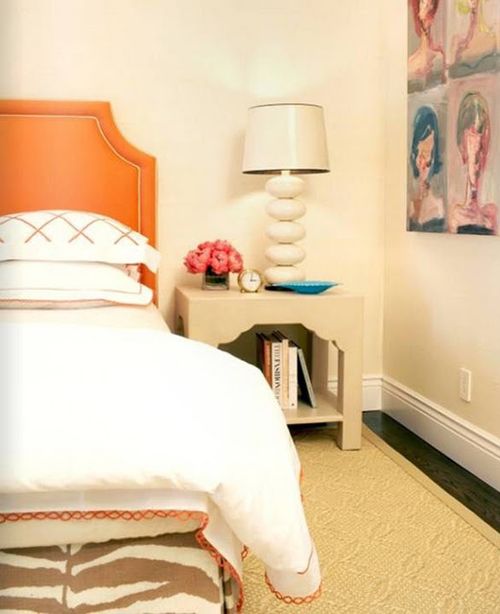 Or h
ow about some button tufting? This
straight headboard with wings
by
Sarah M. Dorsey Designs
(again!) is lovely:
Lots of great ideas out there, huh? There are so many others as well, but I figure this is a good sampling.
So now that you've seen the current state of my bedroom, what do you think? Are you on board with the upholstered headboard idea? If you are, which one of these do you think would "fit" our room? Opinions, please! :)