Happy Monday morning to all of you! Today's July 1st, which is significant for two reasons: one, we officially say adios to Google Reader. I think a small moment of silence is in order.
But! Let's not linger on that for too long because of reason number two...
It's time for another
ditto DIY
project! This is a fun monthly challenge issued by Darlene from
Fieldstone Hill Design
along with a bunch of other lovely bloggers seen here: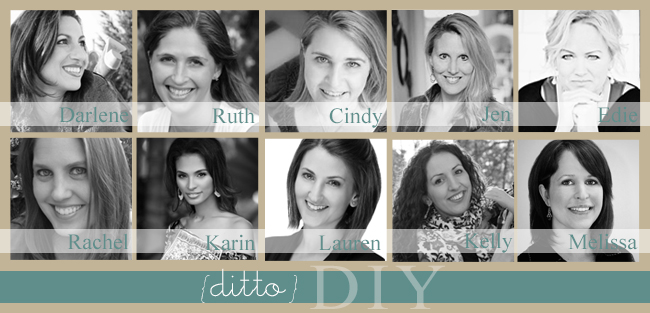 You can read all about the challenge
here
, but the gist of it is that we're all finding ways to add framed fabric as art to our homes this month! This is a great way to add art to your space without breaking the bank. Click on over to
Fieldstone Hill Design
to see how each of these designers interpreted the challenge. These a link-up party too so the rest of us can join in on the fun.
As for my take on it, I've been thinking about changing up some of the pieces on
our gallery wall
, so this was the perfect excuse to grab a couple of favorite fabrics and throw 'em up on the wall. Isn't that the beauty of a gallery wall? The ability to change things up is such a fun aspect of it to me.
The last time we visited my dear little gallery wall, it looked like this:
Now, with the newly framed fabrics, it looks like this:
Can you spot the changes? Out went the photos of our wedding party and my
DIY finger painting art
, and in came the teal floral fabric and the abstract gray and cream fabric.
The teal fabric is actually a small, hand block-printed table runner. I didn't want to cut it up (because I still want to be able to use it as a table runner in the future!), so I just wrapped it around a small, white 8x10 canvas and taped it taut with painter's tape. You'd never know that from looking at it, huh? Shh...let's keep that our little secret.
The gray and cream almost zebra-looking abstract piece is a remnant I picked up a few weeks ago from
Crate and Barrel Outlet
. They carry
Marimekko fabric
there and have a whole barrel (literally, a barrel) full of small remnant pieces. These are perfect for small projects, especially since the remnants are $0.99/lb. Yes, you read that right, 99 cents per pound! You better believe I dug out a whole bunch of pieces at that price, including a couple of really cool metallic patterns. I'll have to show you my finds sometime. I framed this gray piece in the same way as the teal piece. Hooray for non-permanent painter's tape!
I also moved a couple of the frames around until I liked the arrangement that included the new framed fabrics. Bonus points to you if you noticed those changes!
My
ampersand art
got a little upgrade as well in the form a metallic gold outline. It's sort of hard to see from far away, but I think this photo below shows it pretty well. I used the same sharpie on it as I used on my
Kate Spade-inspired zig zag pitcher
. The gold edge has an almost 3D effect - I love it!
It took me about 10 minutes to frame up those fabrics - talk about an easy (and inexpensive) way to add some art to your walls. Anyone, and I mean
anyone
, can do this project. I can't wait to see all the other ditto DIY projects. If you've framed some fabric in your home, write up a post about it and then you can link up to the party today too!
Hope y'all have wonderful weeks - I can't believe the fourth of July is coming up on Thursday!
linking up to: Fieldstone Hill Design, DIY Showoff, Rain on a Tin Roof, Home Stories A to Z, Uncommon Designs, If It's Not Baroque, Liz Marie Blog, House of Hepworths, Blissfully Ever After, Design, Dining and Diapers, Crafty Scrappy Happy, Craftberry Bush, The Shabby Creek Cottage, Tatertots and Jello, Serenity Now, It's Overflowing, House of Rose, Love of Family and Home, Dear Creatives, Madigan Made, First Home...Love Life, Simply Dream and Create, Whipperberry, Sparkles and A Stove