At the end of
yesterday's post
I left you on the edge of your seats, dying to know how in the world I reorganized our cabinets.
Right?
Right.
(Yes, there was a hint of sarcasm in that last statement :) )
Well the wait is over! If you missed that yesterday's post, you can catch up
here
, but here's where we left off: gloriously empty and clean cabinets and drawers...
...And piles of kitchen items everywhere else.
That's what my kitchen looked like for about three hours on Sunday while I pondered the best place for everything to go. I asked myself a lot of questions about what would be the most functional and logical home for each item (since clearly what I had going on before wasn't working!). This will look different for everyone and really depends on your family's needs and the set up of your kitchen. Here's a little bit of
my
thought process:
What do I do most in the kitchen? Cook? Bake? Both? What equipment do I need to be easily accessible?
I'm a pretty simple gal when it comes to cooking and baking. I mostly cook (we try to eat at home a lot), but love to bake, so I like to have basic items for both handy. Every day I tend to use a pot, a
pan and a cutting board, so those got some prime real estate in the deep cabinet next to the oven. Of course I use utensils and knives too, but those are already set in their drawer.
What small appliances do I use most?
We are Saturday morning pancake/waffle people, so we like to have our griddle and wafflemaker handy, otherwise, the other small appliances are used pretty infrequently and got designated to less accessible spaces. For instance, if we only use the blender every couple of months, it's ok for it to be behind some other things in a cabinet.
What can I keep in that lazy susan cabinet that won't drive me crazy when I have to access it?
My main problem with the "organization system" (notice it's in quotes because there wasn't really one) was that things were precariously piled on top of one another and stuffed into ill-fitting spaces, making it impossible to turn. Plus, things just got lost in the deep recesses way too easily. SO, that meant I needed to cut down the contents, regroup items and most importantly, be able to
turn
the thing and access items in the back. I'll be more specific on what I put in there a little later.
From there, it was all about grouping like with like - especially when it came to baking sheets, cake pans, casserole dishes and serving pieces.
So with allll those things in mind, here's how everything looked after I put everything away:
The Lazy Susan Corner Cabinet:
Hooray, it's functional again! As it turned out, the best things to store here on the top tier were miscellaneous small appliances with lots of parts (like my hand blender and hand mixer), less-frequently-used kitchen tools (like the bagel slicer), and a bucket full of serving utensils we don't use unless we have company or are taking food to a party. Right in front, on the top tier is also my mandoline slicer, which I use a TON when I'm slicing/chopping vegetables, so I like to be able to grab it easily.
The middle tier is the perfect height for storing things like ziploc bags, foil and saran wrap...and THAT'S IT Y'ALL. There's tons of leftover space here we can grow into - hopefully in an organized, thoughtful way. :)
We can now easily turn those lazy susan tiers and get to whatever we need without worrying about everything crashing out onto the floor. Victory!
The floor of the cabinet is actually almost exactly the same as before. It's a good place for the heavy, small appliances. They're organized from least used to most used, back to front. Yes, I plan on using that ice cream maker frequently (even though I haven't yet this summer, oops).
And guess what, all this organization and consolidation left me with not one, but TWO basically empty drawers next to that corner cabinet that I don't plan on filling for now. What?! Added bonus. And I thought our kitchen was a tad small. Silly me.
Onto the next space...
The Deep Lower Cabinet:
This is the heart of my kitchen. I'm so happy with how it turned out. I access this cabinet probably ten times a day. The top shelf holds our pots and pans on the left, and pot lids, and cutting boards on the right. The bottom has baking and casserole dishes, rolling pins, and my favorite accessory - Silpat baking sheet liners. Love those things for cooking and baking. The pans are organized by size and shape. Now I can see exactly what I have and grab it easily. There's a designated place for everything, which was my ultimate goal. It may not look like Martha Stewart's kitchen, but hey, it's all about functionality here!
And you know what makes everything so accessible in these deep cabinets? A little DIY trick I came up with using some old laminated placemats, clear packing tape and washi tape (to label it and make it pretty, of course). It's inspired by those AMAZING cabinets that have pull-out drawers so that you can easily access what's in the back. Something like this: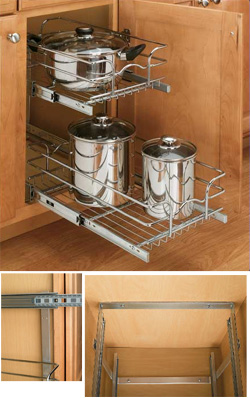 But since a) we rent and b) those are a
little
out of our budget and needs right now, my solution is completely temporary and cost me $0 (since we had everything on hand). More on that trick tomorrow along with some of the little details that add more function and a little pretty :).
Have you spent time thinking about how your kitchen functions? Organized it to better suit your needs? How about another space in the house? Talk to me!
linking up to: DIY Showoff, Rain on a Tin Roof, Home Stories A to Z, Uncommon Designs, If It's Not Baroque, Liz Marie Blog, House of Hepworths, Blissfully Ever After, Design, Dining and Diapers, Crafty Scrappy Happy, Craftberry Bush, The Shabby Creek Cottage, Tatertots and Jello, Serenity Now, It's Overflowing, House of Rose, Love of Family and Home, Dear Creatives, Madigan Made, First Home...Love Life, Simply Dream and Create, Whipperberry, Sparkles and A Stove, Making Home Base
Looking for a unique baby gift? Take a look at my new line of onesies from CSW Designs! Choose your animal, color and pattern (chevron or polka dot). Perfect for the little ones in your life.