A few weekends ago, I took a day trip with some girlfriends up to a barn sale (similar to the one I went to back in the fall, but smaller). While I didn't find anything there, we did stop by another thrift/antique/junk shop before we left and I found two beautiful rattan chairs sitting just off the road by the entrance. I immediately said, "Ooo! I LOVE those!" and everyone else in my car agreed they were really cute. Sold.
Here's one of them sitting in its new home on our balcony:
I've been casually looking for a pair of chairs for our teensy balcony so we can really enjoy sitting out there, and thought these would be perfect. We've got a really pretty view from our balcony into a park, so we sit out there a lot when the weather is nice. Previously we had a wooden bench, which just didn't cut it in terms of comfort. These are com-for-ta-ble. You don't even need a cushion.
I love their clean lines and slightly worn edges. The look like they were well-loved (and well taken care of) by their previous owners.
The price wasn't quite thrift-store rock bottom, but at $60 for the pair, I snatched 'em up real quick. Turns out that
was
a good deal, because when I tried to look up similar chairs and prices, I found this one at
World Market
for $200 for
one chair
.
Annnd this
very similar
one from
Anthropologie
(not available anymore), that was $298(!). Uh, yeah, WINNER goes to my side-of-the-road find!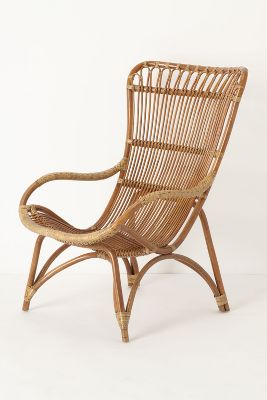 The only issue is that I'm not totally sure how "outdoor-ready" they are. Does anyone know how to weatherproof chairs like this? At this point, we're bringing them in when it rains, but other than that, is there something we could treat them with to keep them in good condition?
I've got big plans in my head for our little balcony so we can use it to its full potential this summer. I'll be sure to keep you in the loop as my ideas go from my head to reality!