After showing y'all
the weirdest room in our house
a couple of weeks ago, I thought I'd start brainstorming ways to make it more functional and maybe even a little bit prettier. This guest bathroom/laundry room functions primarily as a laundry room first and a bathroom second (since we don't have guests too too often), but I'd like to add some storage space for linens as well. I wanted to pull together some inspiration to help guide me along as I make this weird space into something awesome, so will you join me in a little brainstorming sesh today?
Perhaps you've got a small laundry room that could use a little organization too? I hope these ideas will be helpful for you as well!
Simple shelves like these would be great for holding laundry detergent and extra linens. Going vertical with storage is a great way to maximize the space.
But, if you're a renter like me, maybe you can't install something permanent like shelves. An over the door solution like the one below would fit the bill for stashing some of the smaller items like laundry detergent and as a holding place for those socks that are missing their counterpart.
Another great solution for storage is freestanding shelving. I like the flexibility and adjustability of industrial metal shelving (plus, if you read my post the other day, the shelving would have to fit
on top of
the lovely bidet or the washer/dryer down there, so this would be a great solution). Throw a couple of baskets on those shelves and boom. Instant organization.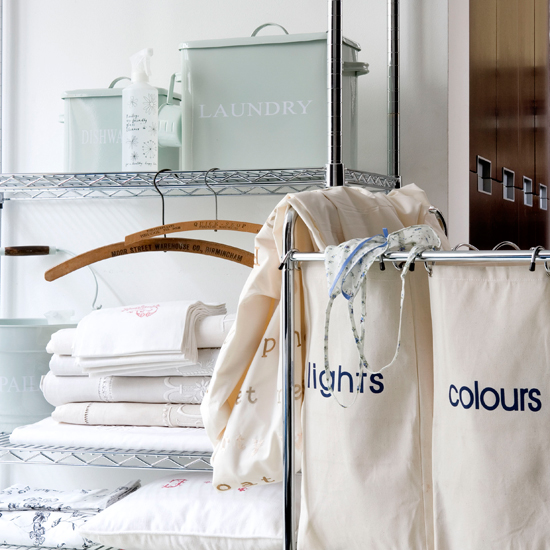 I'd love to have a drying rack for delicates and other non-dryer-worthy clothes. A DIY like this one from Centsational Girl is on my list of project ideas!
Another, no-building-necessary solution would be a valet hook - this little wall-mounted guy is so compact, but so handy!
What are your favorite small-space solutions for laundry rooms?
I hope to have some progress to share with you soon on our weird laundry/guest bathroom space!