Today we're talking about everyone's favorite chore: LAUNDRY! I would
love
to get a conversation going on how you get.it.done. It's definitely not my favorite chore and I'm certainly not a pro, so I'm always looking for tips and tricks to make this necessary process a little more enjoyable.
And what would a post about laundry be without some photos of some gorgeous laundry rooms?! There will be lots of those in this post to get you motivated and inspired ;).
Before we start, want to know a fun fact about me and my laundry past? In college, sometimes I'd drop my clothes off at one of those "laundry by the pound" places and they'd wash, dry and fold all my clothes...and I did that because I claimed I was too busy to do laundry (and I only had to do my own!). Ha! If I could go back and tell my college self how ridiculous that sounded and how little time I have
now
I'd have happily have done that laundry.
SO! How do you get your laundry done? What are your best tips and tricks?
Here are a 5 tips and tricks I use to get my own laundry done:
1 | Don't bother sorting whites and colors into different loads. Most clothes will be
fine
when mixed all together because they're manufactured to be colorfast (especially on a cold water cycle). Of course, there are exceptions to this. For example, I always wash a new item with like colors just in case there's any color bleeding.
2 | All at once or one load a day? I do both. If I'm feeling super motivated and have time, I might do several loads in a row. Other days, I just do one to try and keep the clothes from overflowing from the hamper. I think it's ok to
not
be strict on how you get it all done! You just have to figure out what works best for you.
3 | Fold laundry while it's still warm to minimize the need to iron. Do I always do this? No, but I do try to make sure I pull anything out of the load that I don't want to wrinkle. I've been known to leave clean laundry in a pile for several days before folding it...and then I have to iron more.
4 | Wash clothes on a "light wash" cycle unless they're heavily soiled. I find this gets the job done for everyday washing and it'll save time overall.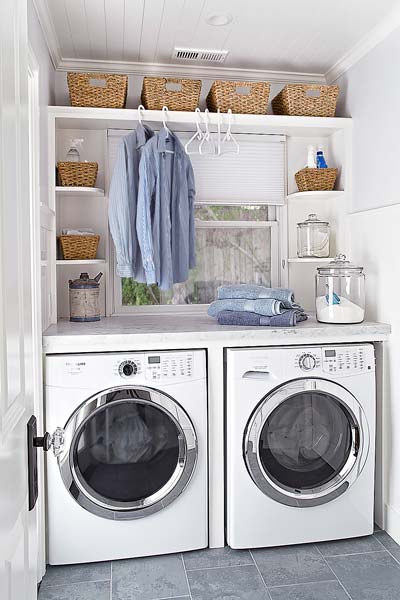 5 | Don't fold clothes that don't need it. Workout clothes? Socks? Underwear (who folds underwear anyway...)? Have a designated basket or drawer for those items and toss them in.
Alright, that's my two cents on how I get MY laundry done. Now let's hear from you! Give me your two cents! My least favorite thing is putting it away. Any great tips for that? ;)